Intersectionality Mainstreaming in EU Equality Policies: Reflections on the Promises and Perils of a Novel Approach
May 10 @ 12:00 pm

-

1:30 pm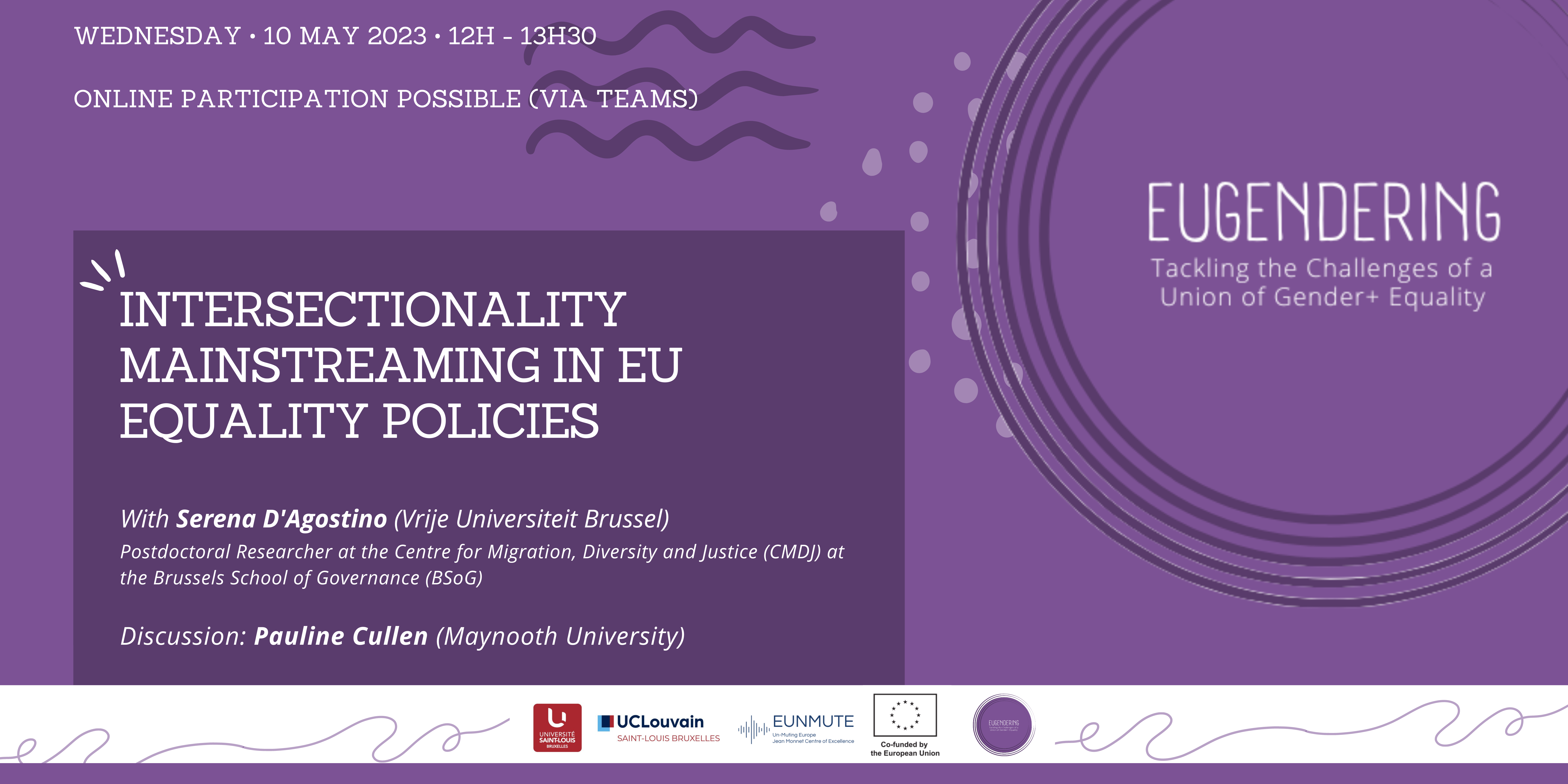 Room P30 (Préfecture building, 119 rue du marais – Bruxelles)
Serena D'Agostino (she/her/hers) is a Postdoctoral Researcher at the Centre for Migration, Diversity and Justice (CMDJ) at the Brussels School of Governance (BSoG), Vrije Universiteit Brussel (VUB). She is the coordinator of the VUB Strategic Research Programme Enhancing Democratic Governance in Europe (EDGE). She regularly serves as a commissioned expert to the EU Agency for Fundamental Rights (FRA) for its annual Fundamental Rights Report (chapter on Roma Equality and Inclusion, Belgium). Her research interests lie at the crossroads of (political) intersectionality, activism/social movements and minority politics and rights, with a focus on Romani (gender) politics and Roma (women's) rights in Europe. Her work has been published in Politics, Groups, and Identities, the European Journal of Politics and Gender, the International Feminist Journal of Politics, and the Journal of Diversity and Gender Studies, among others.
Pauline Cullen is Associate Professor of Sociology at the Centre for European and Eurasian Studies, Maynooth University. Her work examines civil society mobilization on social justice and gender equality at national and European Union level, women's movements and gender and political representation. She has also worked as a gender expert for advocacy organisations working on gender justice and equality issues and have supervised postgraduate student research on the  mobilization of sexual minorities  in Ireland and ethnic minority women and gender roles.
Abstract: In the last decade, intersectionality has become increasingly present in the EU equality agenda. From a very embryonic, implicit and often misunderstood concept in European policy-making in the early 2000s, intersectionality is now a core cross-cutting principle in political and policy debates about equality, anti-discrimination and human rights. At first glance, one could even dare to talk about a novel approach based on intersectionality mainstreaming. Yet, it is crucial to remain cautious, as a substantial mainstreaming of intersectionality might not be as easy as it seems.
This essay stimulates reflection on the mainstreaming of intersectionality in contemporary EU equality policies. In particular, it builds on past and current academic debates about the application of intersectionality to (European) policy-making to think critically about both the promises (e.g. improving the quality of policies) and perils (e.g. increasing the risk of depoliticization and co-optation of intersectionality) of this approach. Doing so, it uses illustrations from the recently adopted 'Union of Equality' strategies, with particular emphasis on the policies addressing Romani women – where  a lack of 'intersectional thinking' was previously acknowledged (D'Agostino 2015).
Online participation available (Teams):
here